Locally Owned and Operated Since 1985
The Experts You've Trusted for Over 35 Years
Digitech Office Equipment is a locally owned Albuquerque Authorized Kyocera Dealer. We rent, lease, sell and service both new and used MFP copiers and printers. We have serviced Albuquerque, Rio Rancho, Santa Fe, and the surrounding area for over 35 years. Our goal is to form a relationship with each of our customers and provide the best product and service to fit your particular business needs. As a Kyocera dealer, we offer a variety of business solutions to customize your company's individual workflow processes. Kyocera technology uses a ceramic drum that lasts three times longer than competitive offerings. We also offer tiered billing for color copies and prints.
As a locally owned Albuquerque business, our employees listen to our customers. They are empowered to make decisions that will ensure customers have what they need from us to boost productivity, and lower document imaging costs.
Our offerings include sales of new or used copier/printers and Dahle shredders, leasing of new or pre-owned equipment, and rental of MFP copiers for short term or long term. Contact us and we will be glad to evaluate your business needs with quality equipment that best fits your business at an affordable price.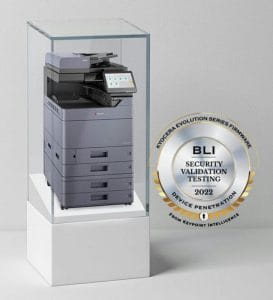 Kyocera security is

Keypoint certified
With the volume and complexity of cybersecurity increasing by the day, data protection is now at top-of-mind for business leaders. In the face of this new wave of professional hackers, Kyocera has once again raised its fighting spirit, taking a proactive approach to ensuring its highest possible level data protection for its devices.
Kyocera was extremely proud to receive the prestigious Keypoint Intelligence Security Validation Testing certificate for its Evolution Series during its REIMAGINE dealer conference, which took place June 1-3, 2022 in San Antonio, Texas.
The rigorous examination focused on both automated cyberattacks and white hat hacking and involved attempted Device Penetration of the firmware and underlying OS. Our K-Level security is Kyocera's highest firmware level of security, providing Evolution Series users with a reliable and highly-recommended product.